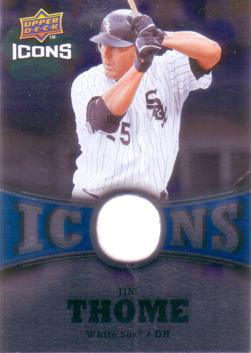 November 25, 2005: The Philadelphia Phillies trade
Jim Thome
with cash to the Chicago White Sox for
Aaron Rowand
,
Gio Gonzalez
and
Daniel Haigwood
.
Phillies fallout: This move was an inevitability with
Ryan Howard
no-so-gently nudging Thome out of Philly. As a result, the Phils likely didn't get as much as they could've otherwise, since the 29 other clubs knew Thome was living on borrowed time. BTW why is it whenever you receive an email with a "friendly reminder", it's typically not very friendly? Anyway, Rowand was a serviceable haul in retrospect, putting together a good season in 2006 and a great season in 2007. He parlayed this success into a terribly inflated contract with the Giants, ultimately cashing cheques largely from the bench as the Giants captured the 2010 World Series title. Silver lining: Rowand's massive 2007 meant the Phillies let him walk, opening up at-bats in 2008 and beyond for
Jayson Werth
, a superior player no doubt. As for Gio Gonzalez, he was eventually spun to back to the White Sox during the 2006 offseason alongside
Gavin Floyd
for a gimpy
Freddy Garcia
. Guessing that's one swap Phillies GM Pat Gillick would take a mulligan on.
White Sox fallout: Even though he was in his mid-thirties by the time he arrived in Chicago, Thome was still a fearsome, productive hitter for the White Sox, slugging 42 home runs in 2006 and giving them a formable presence, both in their clubhouse and line-up. Thome was flipped to the Dodgers at the 2009 trade deadline for middling middle infield "prospect"
Justin Fuller
. The White Sox DH position in 2010 was a revolving door, featuring
Mark Kotsay
and other dregs.
The winner: Let's give this one to the White Sox. Long-term, Gio Gonzalez is probably the most tantalizing vittle in this swap and since the Sox got him back a season later plus received 3.5 years out of Thome, hard to fault the efforts of the ever-erratic Sox GM Kenny Williams.